Tongariro Alpine Crossing, New Zealand's most well-known one-day hike, is also a top ten choice for one-day hikes worldwide. You can hike it in both the summer and winter. The freedom hiking season lasts from October to May. Tongariro Alpine Crossing is a 6-hour hike with two optional side trips, which you can find out at Tongarirocrossing.com. Mt Tongariro or Mt Ngauruhoe. You must allow 3 hours for both side trips.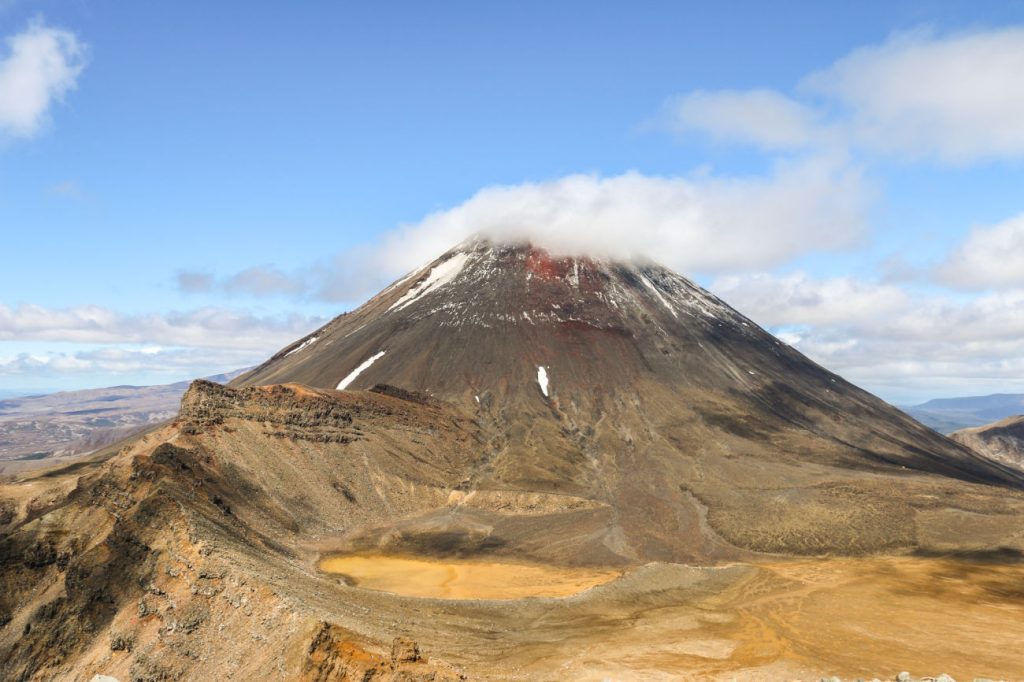 During the winter months, the Tongariro Alpine Crossing requires the services of a guide (June to October). Snow has covered the track and markers. We recommend that you check in with us regardless of season to confirm weather conditions because weather can change quickly and dramatically.
Cross the Tongariro Alpine Trail
The Tongariro Alpine Crossing is a must-do in the Ruapehu region. This world-famous trek is regarded as the best one-day walk. The Ngauruhoe, Tongariro, and Ruapehu volcanic peaks are among its most distinctive landforms.
We have negotiated the best price for you so that you do not have to organise the trek. Simply come in and have a good time. Check out our package offer here.
How to Get Ready
It takes about 7-8 hours to complete this world heritage site. It is something that almost anyone can do, but be prepared. Bring enough water and food to last the entire trip. Examine the weather and let us know if it's too windy. We will always provide you with the most up-to-date weather forecasts. Check that you have the proper equipment. Bring a rain jacket, extra fleece, gloves, sunscreen, and gloves because you will be walking or hiking in the mountains.
Bring your phone in case of an emergency. Despite the limited coverage, it can be very useful!
Tongariro Alpine Crossing can be done independently during the summer, but Tongariro Expeditions will provide the necessary gear and guide for winter expeditions.
How do I get there?
Private vehicles can travel on Mangatepopo Road. However, due to a lack of parking, access to the parking area and Mangatepopo Road is not possible. When the parking lots at Mangetepopo are full, most visitors will have to rely on the shuttle service. This shuttle can be reserved the day before.
What is the best season for hiking the Tongariro Crossing?
This trail is best hiked between November and April. During the southern hemisphere winter, this trail is completely covered in snow (May to September). It is possible to hike it in the winter. However, you should think about hiring an alpine guide company. The busiest months are February and March. These are the best months for weather, but they are also the busiest.
Visit our Facebook page to see photos from guests who have hiked this track during the New Zealand hiking season!
November
Tongariro National Park's hiking season begins this weekend. Spring has arrived in New Zealand as well. Windy, gusty weather and heavy rains are common. Temperatures in the lowlands can range from 5°C to 2°C above the ridgeline. As the temperature drops higher up, wind chill can be dangerous. Sometimes thin layers of snow or ice are left on the track. These are typically not below your ankles, but they are sufficient to alert you to your foot position.
December
It's an excellent time to travel because the weather is warming and the winds are lowering. Because we Kiwis are preparing for Christmas, this is not the best month to go hiking. However, local lodging providers and airlines may charge twice their normal rates to capitalise on the holiday season. If you want to go hiking in December, make your reservations early.
January
In January, this hiking trail is divided into two halves. After Christmas, the first two weeks of January are busy, with Kiwis taking advantage of our large backyard for our annual holiday. We all return to work in mid-January, leaving the trails open for our international visitors. These are the final two weeks of January, which I refer to as the "golden days." This is the time to hike the Tongariro Alpine Crossing.
February
On the track, February is a busy month. Everyone agrees that this is the best time to walk the track because of the weather. Every year, approximately 150,000 people walk this track. It can feel small in February. When you finish the track, you may be irritated and wish you had more time to relax. If you like a lively, friendly atmosphere on the trail and don't mind crowds, February is the month for you. If you want to hike in solitude, you should consider December or November.
Other difficulties arise during the hot summer months. The high alpine areas have almost no tree cover. This allows you to walk alongside other hikers while still seeing wildlife. Take extra precautions in New Zealand because it is extremely hot. Apply sunscreen liberally. If at all possible, cover your entire body in light, breathable layers. When you cross the saddle and climb up to the Red Crater and Emerald Lakes, you'll be exposed. There aren't many trees to take cover under. On a hot day, you'll feel as if you're being blown by the wind. You will quickly become dehydrated if you do not drink enough water. Because there will be no water at the track, bring enough to last the entire day.
March
March track conditions are similar to February, but slightly cooler due to the extremely hot February days. The temperatures in March are similar to those in February, with the exception that the afternoons and evenings are cooler.
April
April, oh April. Hikers will love it here. The day begins cool and quickly heats up, as it did in March. It then begins to decline around 3-4pm. As the sun sets, it moves faster across the horizon. Summer's long, balmy afternoons are coming to an end. If possible, get on the track as soon as possible. To make it down the track before the sun rises, try to leave by 7.30 a.m. This will allow you to see a beautiful sunset as you descend. If you enjoy cool mornings and warm afternoons, this is the best time to hike the Tongariro Alpine Crossing.
Walking Legends will no longer offer guided walks in Tongariro National Park at the end of April. Winter hibernation is more our style. We are more of a summer hiker. Tongariro Alpine Crossing is included in a 3.5-day guided hiking tour of Tongariro National Park. We'll handle everything else.
Here is everything you need to know about the Tongariro Alpine Crossing.
The Tongariro Alpen Crossing is without a doubt one of our most popular attractions. It attracts thousands of visitors each year and is widely regarded as one of New Zealand's most popular day hikes.
It's also extremely difficult and dangerous. You will be travelling through an active volcano, mountainous terrain, and an alpine environment where weather conditions can change quickly at any time.
We've compiled answers to the most frequently asked questions about the Tongariro Alpen Crossing to make sure you're prepared and know what to expect.
Is the Tongariro Alpine Crossing difficult to hike?
The Tongariro Alpine Crossing is a 19.4km long and difficult hike (12 miles). To enjoy it safely, you must be physically fit and have some preparation. Be prepared for a long and difficult day. The elevation change is approximately 1196m/3923ft, with the highest point – the Red Crater – at 1868m/6128ft above sealevel. The climbs aren't the most difficult part of the hike. You will need endurance to complete the distance, especially in the last half, which is mostly downhill at 760m/2493ft above sea level. To complete the hike, you must be able to walk for 6-8 hours. Tongariro Alpine Crossing passes through an active volcano. This can make the hike difficult, particularly when descending the steep slope covered in loose scoria. Due to strong winds, rain, and cold weather, you should be prepared to change directions.
How long does it take to complete the Tongariro Alpine Crossing walk?
It all depends on your level of fitness, but most hikers finish in 6-8 hours. It's not a race, so take your time and take in all the sights. Take your time when things are difficult to avoid fatigue and injury.